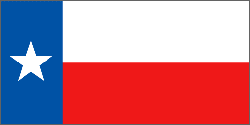 Texas
"Lone Star State"
Motto

Friendship

Capitol

Name Origin

From an Indian word meaning "friends"

Statehood Date

Dec. 29, 1845 (28th)
Cities in Texas
NOTE: Not all cities are displayed. Please narrow your selection by using the search above.
Official Symbols
A state's official symbols represent the composition and culture of the land and people who live and have lived here. Below are the symbols of Texas along with the year they became official.
| | |
| --- | --- |
| Flower | Bluebonnet (1901) |
| Tree | Pecan (1919) |
| Bird | Mockingbird (1927) |
| Song | "Texas, Our Texas" (1929) |
| Fish | Guadalupe Bass (1989) |
| Seashell | Lightning Whelk (1987) |
| Dish | Chili (1977) |
| Folk Dance | Square Dance (1991) |
| Fruit | Texas Red Grapefruit (1993) |
| Gem | Texas Blue Topaz (1969) |
| Gemstone Cut | Lone Star Cut (1977) |
| Grass | Sideoats Grass (1971) |
| Reptile | Horned Lizard (1993) |
| Stone | Petrified Palmwood (1969) |
| Plant | Prickly Pear Cactus |
| Insect | Monarch Butterfly |
| Pepper | Jalapeño Pepper |
| Mammal | Longhorn |
| Small Mammal | Armadillo |
| Flying Mammal | Mexican Free-Tailed Bat |
Demographics
Population Density

79.6 people per square mile
Geography and Weather
Land Area

261,797 sq mi. (678,054 sq km)

Lowest Elevation

0 ft (0 m)

Average Elevation

1700 ft (518.16 m)

Highest Temperature Recorded

120°F (49°C) on June 28, 1994

Lowest Temperature Recorded

–23°F (–31°C) on February 8, 1933