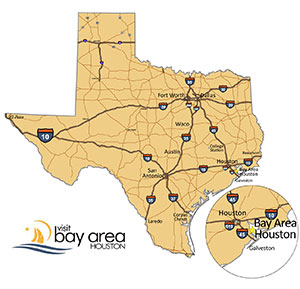 Located on beautiful Galveston Bay and Clear Lake, Bay Area Houston is a fabulous destination for water sports, outdoor exploration, and fun family activities. Situated 30 miles south of Houston, Texas, the area boasts a warm climate with a charming, no-hassle atmosphere, perfect for a weekend getaway or extended visit. Quaint shops, luxury hotels and bed & breakfast accommodations, relaxing spas, and acclaimed restaurants are just a sampling of the myriad spots waiting for you.
Hop on a high-powered jet ski or captain a sailboat, all while enjoying a self-guided tour of the region's lakes and waterfront sites. Join a deep sea fishing excursion for the freshest catch or climb aboard one of the many chartered party cruisers or adventure speed boats.
For the nature lover, Bay Area Houston is home to hundreds of species of birds and animals. The area hosts the largest urban wildlife preserve in the country, with nature trails, pontoon and canoe guided tours, and wilderness education programs that make any day simply delightful.
If thrill seeking is your desire, buckle up in our lightning speed roller coaster and gravity-defying drop tower at the Kemah Boardwalk, ranked in Forbes Top 10 Boardwalks within the nation. Take in an IMAX movie to space or strap in for a multimedia sensory experience to orbit at Space Center Houston, NASA's premier attraction park and spaceflight museum.
Whatever floats your boat, come play - come stay, in Bay Area Houston.